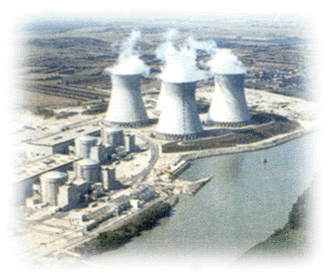 Choose a Specialized Products Concept Services Division
SPCCOK in Korea line ltd's

Quality is our "NO. 1" Operating Priority.
We will deliver defect-free products and service
on time, to our customers and to each other.
Together with our suppliers and customers, we
will conform to the agreed-upon reguirements
and "do it right the first time."
SPCCOK- Imagination at Work.
will require Continuous
Business Improvement in all areas. Working together
with a Team approach, all levels of employment will
operate productively toward common goals aimed
at " being better tomorrow than we are today."

SPCCOK in Korea line ltd's
With a Countinued Focus on Globalization. Maintains Sight of the elements
that are the foundation of our success - commitments to
quality, people, technology and market diversification.
Quality Products - Quality People,
As a worldwide manufacturer and distributor of engineered products, we have
accepted the responsibility to provide solutions to industrial markets for vibration,
thermal and pressure issues, as well as concerns stemming from the transfer of
various media (liquids, gasses and chemicals). ln this respect, engineered
solutions will continus to be the fundamental basis of our business strategy.
SPCCOK- Imagination at Work.
Consistently explores new market possibilities, in addition to
expansion opportunities in existing markets. We aggressively pursue focused,
profitable growth through a combination of synergistic business acquisitions and a
policy of Continuous Business Improvement in existing operations.


SPCCOK Korea line
The Specialized Products Services Division Marketing and Communications Contact Information

SPCCOK was established on Jan. 5th, 1972,
and has been a prosperous engineering marketing company who aims at delivering and
supplying high quality equipment and products by companies from all over the world. We have been highly
specialized in special concept products to meet the specific needs and requirements of various clients.


SPCCOK puts its priority in meeting our clients' needs, which is to supply world-renowned products at the
most competitive price terms promptly by building networks with multinational companies and their
well-experienced engineers.


* SPCCOK distributes
* adhesive sealant system for vehicle and shipbuilding
* pipeline couplings and pipes, hose parts and pipeline repair tape system,
* drillship lubricants and lube oil transportation equipment, flowmeters, and meauring equipment-related system,
* magnet, iron separator, lifting magnet system,
* eletric terminal, electiricity insulating products and sealing system,
* and other specialized products to serve our customers' needs.

SPCCOK will do our best to be of your service by participating international exhibitions and be an
active marketer where specialized goods are requested, and to as always be moving on as a prominent
supplier of the goods with kindness and service-oriented mind as well as a desired technical service and
satisfying support in guaranteeing product quality.

Thank you for your time and consideration.

SPCCOK- Imagination at Work
Quality is our "NO. 1" Operating Priority. Quality Products - Quality People,
* SPCCOK in Korea line ltd's
The strength, diversity and character of SPCCOK can be best exhibited by the gloval markets we serve.

* SPCCOK in Korea line ltd's
SPCCOK- SPC Korea line marketing & services ltd.

Pipeing systems, couplings, fittings, expansion joints, marketing
Fire protection, Pipeing systems, Coupling, Fittings, Expansion joints.
Straub coupling, Victaulic coupling
Piusi Lubrication pump equipment
BTB autoglass & body shop tools


* SPCCOK in Korea line ltd's
SPCCOK- Spare partscenter marketing & services ltd.

Flow control meters, equipments, special systems marketing
Flowmeter control systems
Flow control-P/D meter, Oval, Turbine, Magnetic systems.
Pressure special instrument equipment


* SPCCOK in Korea line ltd's
SPCCOK- Special products marketing & services ltd.

Marine safety & emergency special products marketing
Tirfor Wrench * Emergency light sticks
Life saving equipment, Signal kits, Maritime safety equipment.


* SPCCOK in Korea line ltd's
SPCCOK- Youngjinmoolsan marketing & services ltd.

Adhesives, sealings, lappings, lubricants, chemical products marketing
Plasteel, Smups, Thistlebond, Tups, Cordobond, Sakuracoat,
Duxseal, Titeseal, Plaseal, Checkseal, Tridentseal, Smupseal,
Plasticmetal, Plasticsteel, Mulltimetal, Ptups,
Molylube, Molyslip, Coapslip, Chemola, Smocon, Thredon, Neolube
Clover diamond & Sgcsc, Sgbao, Sgdam, lapping compound, Carborundum powder.
NRI Wraptape, Syntho-Glass, Trident-Wrap. Thistle-Wrap


* SPCCOK in Korea line ltd's
SPCCOK- Technomagnete marketing & services ltd.

Electropermanent magnet special systems marketing
Tecnomagnete Electropermanent lifting magnete systems
Tecnomagnete HiTech tecnomagnete permanent lifting magnete systems
Tecnomagnete Electropermanent check, clamp, grinding, cutting magnet systems


* SPCCOK in Korea line ltd's
SPCCOK- MS Polymer, marketing & services ltd.

MS-Polymer special products marketing
MS-Polymer Adfhesive Sealants
LNG shipbuildingline adhesive sealing polymers

Telephone No, for MRO Business

We hope for your prosperity. Our company have unified and moved promotion department, W/S and A/S department
of affiliated company of SPCCOK Korea in in accordance with enlargement of SPCCOK Logistics Center and change
of local Phone Number, in relation to internet working business to install SPCCOK Korea line marketplace.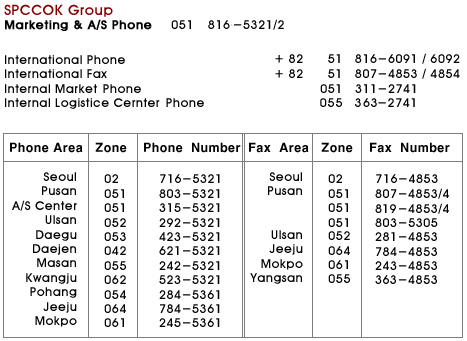 SPCCOK- Imagination at Work.
SPCCOK Korea line Head Office

| | |
| --- | --- |
| | Head office : SPCCOK-Tecnobuilding. A-113, Jenpodong 681-2, Jingu, Busan, south Korea . Mail: 614-740 |


Phone
+ 82 (0) 51 803-5321
+ 82 (0) 51 816-5321


Fax


+ 82 (0) 51 807-4853.
+ 82 (0) 51 819-4853.

SPCCOK in Korea line ltd's
Specializid Products Concept Corp., Of korea
Services Products - Sales & Distribution

Phone 051 816 - 6091. 6092
Fax 051 807 - 4853. 4854
E-mail spccok@spccok.com